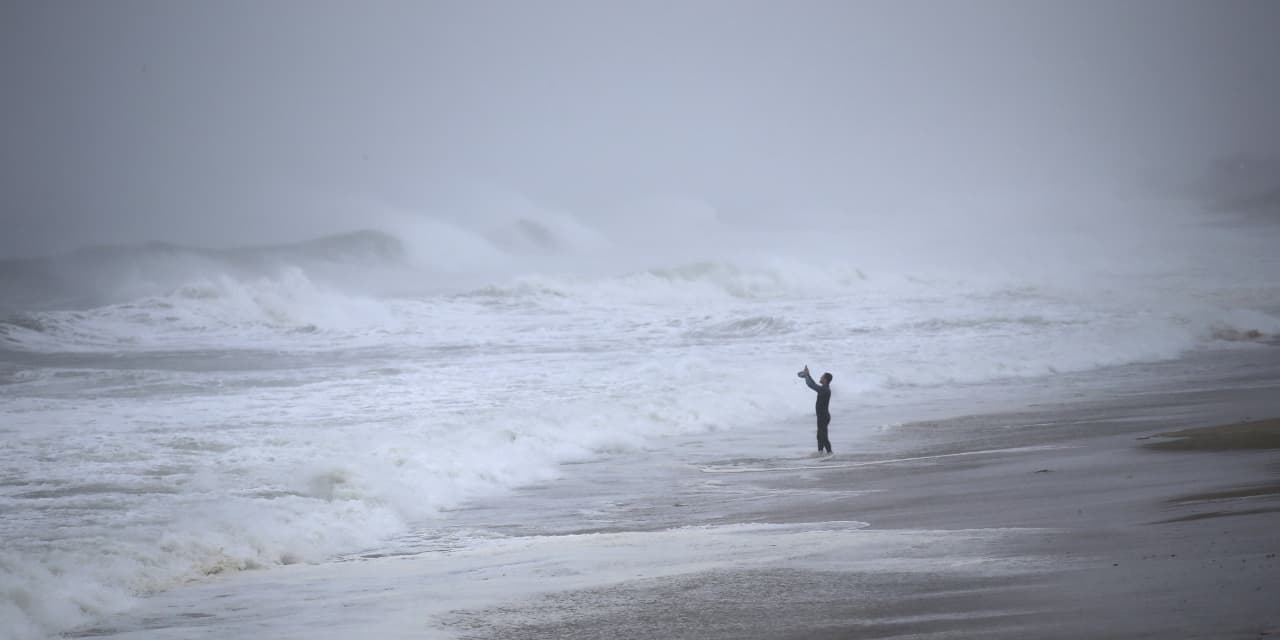 Tropical Storm Henri makes landfall in Rhode Island
Tropical Storm Henri hit the Rhode Island coast on Sunday afternoon, causing high winds that cut power to tens of thousands of homes and bands of rain that caused flash flooding from New Jersey to Massachusetts.
The storm went from a hurricane to a tropical storm, but still had sustained winds of around 60 mph and gusts of up to 70 mph, according to the National Hurricane Center.
There have been few early reports of major wind or wave damage, but officials have warned of the danger of spot flooding in inland areas over the next few days.
Millions of people on Long Island in New York and southern New England have braced for the possibility of flooding, tree upsets and prolonged power outages.
National Grid reported 74,000 customers without power in Rhode Island and EverSource reports nearly 20,000 customers in Connecticut.
Several major bridges in Rhode Island, which connect much of the state, were briefly closed on Sunday and some coastal roads were nearly impassable.
Western resident Collette Chisholm, a 20-year-old resident, said the waves were much higher than normal but said she was not worried about her home being seriously damaged. "I like storms," she says. "I think they're exciting, as long as no one gets hurt."
In Newport, Paul and Cherie Saunders were weathering the storm at a home his family has owned since the late 1950s. Their basement was flooded with 5 feet of water during Super Storm Sandy nine years ago.
"This house has been through so many hurricanes and so much has happened," said Cherie Saunders, 68. "We'll just wait and see what happens."
Rhode Island has been periodically hit by hurricanes and tropical storms, including Super Storm Sandy in 2012, Irene in 2011, and Hurricane Bob in 1991.
The city of Providence suffered so much damage from flooding caused by a hurricane in 1938 and Hurricane Carol in 1954 that it built a hurricane barrier in the 1960s to protect its downtown area from a surge of storm moving up Narragansett Bay. That barrier – and the new gates built nearby – were closed on Sunday.
Further south in Branford, Connecticut, 61-year-old geologist Paul Muniz was busy securing his boat for the storm. Muniz lives near the marina and has survived previous storms and spent $ 50,000 to raise his house 9 feet off the ground.
"I've lived here for 32 years, I've had the opportunity to move a couple of times, but you know it's a very special place," Muniz said.
While the wind was strong in some areas, experts warned that the greatest threat from the storm is likely to come from storm surges and inland flooding, caused by what is expected to be heavy and sustained rains. Some of the highest rainfall totals were expected inland.
In one of his last appearances as governor before he stepped down on Monday over a sexual harassment scandal, New York Gov. Andrew Cuomo said that with the threat diminishing on Long Island, the state's main concern was inland areas like the Hudson River Valley, north of New York City, which is expected to receive a few inches of rain over the next few days.
Precipitation in the Catskills "is a big problem," Cuomo said. "In the Hudson Valley you have hills, you have streams, water rushes down those hills and turns a stream into a devastating river. I saw small towns in these mountainous regions devastated by rain. This is still a very real possibility.
The Massachusetts Steamship Authority has canceled all Sunday ferry services between the mainland and the popular vacation islands of Martha's Vineyard and Nantucket after the U.S. Coast Guard closed ports on Cape Cod and New Bedford. Tourists waiting in their cars, hoping for a last minute ferry off the islands, found themselves stranded until the worst of Henry passes.
The first thunderstorms bringing what could be as much as half a foot (15 centimeters) of rain arrived late Saturday and flash floods started in some areas overnight.
Bands of heavy rain submerged storm sewers, and conductors crossed water to a depth of one foot in a few places in New York City, as well as Newark and Hoboken, New Jersey.
President Joe Biden has declared disasters across much of the region, opening the purse strings for federal stimulus aid. The White House said Biden discussed preparations with governors in the Northeast, and New York Lt. Gov. Kathy Hochul, who succeeds Cuomo on Tuesday, also participated.
Major airports in the region remained open as the storm approached, although hundreds of Sunday flights were canceled. Service on some branches of the New York City commuter rail system was suspended until Sunday, as was Amtrak service between New York City and Boston.
New York has not been directly affected by a powerful cyclone since Super Storm Sandy wreaked havoc in 2012. Some of that storm's most significant repairs have been completed, but many projects designed to protect against future ones. storms remain unfinished.
Norbert Weissberg watched the waves from the edge of an East Hampton beach parking lot as strong winds whipped an American flag fluttering on an unmanned lifeguard chair.
"I'm always excited to see something as fierce as this," Weissberg said. "It's less fierce than I thought. We are all prepared for a major, major calamity, and it's a little less than that. "