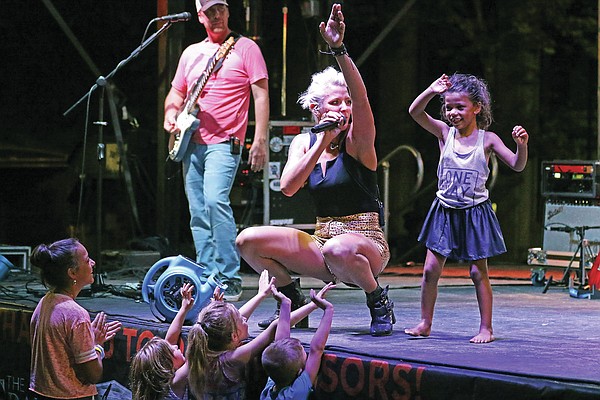 Thursday Night Live season kicks off next week
The downtown Jefferson City summer concert series returns next week to the intersection of High and Madison streets.
The first Thursday Night Live of the year kicks off May 19 with headliner Shiloh Country Band. Doors open at 6:30 p.m. with opening act Ross Steiner on stage at 7 p.m.
Event organizer Angela Nale, who is a board member of the Downtown Jefferson City Association, said many downtown bars and restaurants were participating in the event, although several of them they are currently in transition. As an example, she noted Spectator's, which closed earlier this year but will reopen later this year as a new business; Bar Vino, which is working on the upcoming opening of Bar Whiskey downtown; and Gotham Grill, a comic book-themed cafe that opened downtown earlier this year after its location in the Governor's Office building closed in 2020.
So for this first Thursday Night Live of the season, Nale said the focus was purely on the concert.
"We always want to get everyone out there and have a good time," she said. "For May, these are just the basics, but we hope to spice it up in June."
Local '90s R&B and hip-hop group Dope A** Sneakers will headline Thursday Night Live on June 16 with the opening act for These Guys.
There is no July event with downtown resources entirely dedicated to the 4th of July Salute to America celebration. In August, Nale said, Missouri stompgrass band The Kay Brothers are scheduled to perform on August 18. She hasn't gotten the September act yet, but is looking for a rock band. The last Thursday Night Live of the season will take place on September 15.
As the season progresses, Nale said to keep an eye on the Thursday Night Live Facebook page for more announcements as she hopes to add themes or special activities to some of the later events. For the past few years there have been taco and wing nights as well as a beach party.
"Thursday Night Live is all about raising awareness downtown and getting people downtown to see what we have to offer and to eat, drink and be merry," Nale said.
Admission to Thursday Night Live is $2 for ages 4-12; Ages 13 and up are admitted for $5. A bracelet and a cup are included for people 21 and over. Anyone under 16 must stay with a parent or guardian.