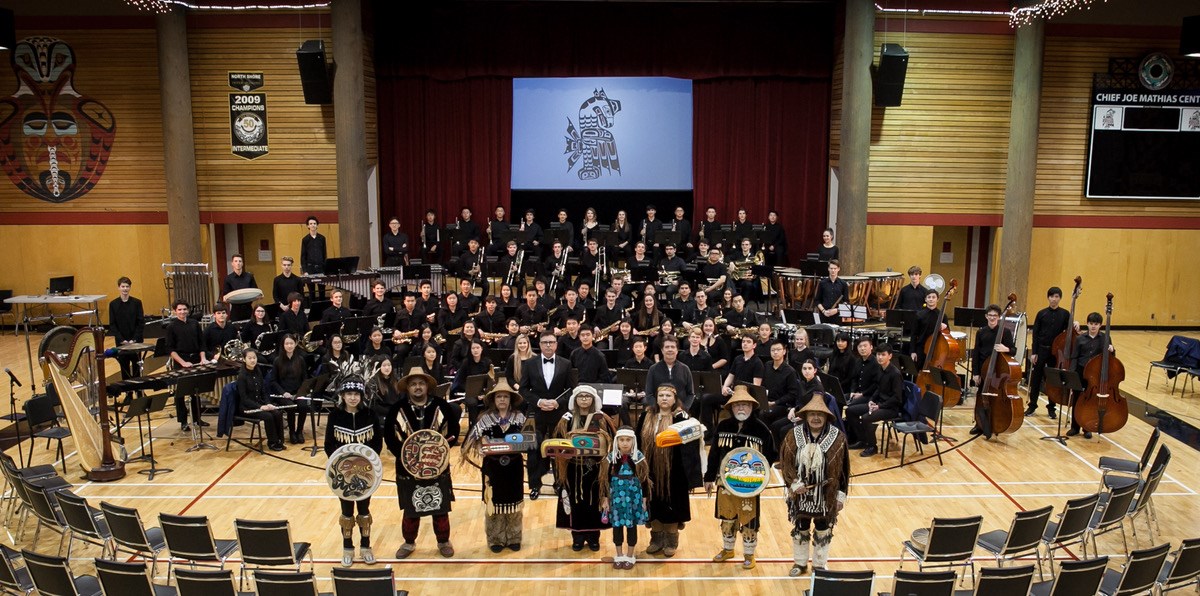 The West Van Youth Band and the Squamish Eagle Song Dancers make symphonic history
The groups will perform songs donated by Sḵwx̱wú7mesh Úxwumixw (Squamish Nation) S7aplek elder Bob Baker, which have been reinvented by composer Robert (Bob) Buckley.
After years of delays due to the COVID-19 pandemic, the West Vancouver Youth Band and Spakwus Slolem (Eagle Song Dancers) are making history with their three-movement symphonic piece Sḵwx̱wú7mesh (Squamish) which will premiere over later this month.
Held at the Chief Joe Mathias Center on April 26, The Gathering of Eagles consists of songs by S7aplek Sḵwx̱wú7mesh Úxwumixw (Squamish Nation) Elder Bob Baker, which have been re-imagined by composer Robert (Bob) Buckley.
Band manager and bandleader Doug Macauley said after the premiere of the first movement (song of the wolf) in 2018, the unique piece was so successful that some Elders asked for it to be redone.
"And then it was logical to make it a work in three movements. So we got to play the second movement in 2019, and we would have done that gig in 2020. But, you know, things happened," Macauley said with a laugh.
While serving on a Department of Education committee before the pandemic, Macauley sought to reimagine what music education might look like, and while well into the 21st century, he said that music education "still does things the way we always have".
"One of the things that kept coming up was the importance of including First Nations content. But none of that exists except in really bad Hollywood arrangements and compositions," he explained.
"There were also some very good, serious attempts by good composers. But, they were writing what they imagined it would sound like. Whereas, [there's a] big push for authenticity and for permission, and for everything to be done right, because a lot of music has just been taken over the years. So I went to Bob Baker and said, 'I have this idea, could you lend us some songs?' and he loved the idea.
The idea arose out of "frustration," Macauley said, adding that Bob Buckley was the perfect composer to take Baker's work to a symphony group, as he had previously worked on the 2010 Olympics and with First Nations writers.
"[Now] it's played all over the world, and certainly by bands across Canada. Very popular piece of music, and it shows that it can be done. You can create those relationships, rather than having to have committees of meetings, you just call somebody up and say, "Hey, do you want to do something?" Macauley said.
Macauley explained that this musical piece creates a template for how collaborations like this can be achieved, and said it's imperative that everything is done correctly and follows protocol.
"Exactly, that is, Bob Baker, whose songs we have kindly granted permission to use, is listed as a composer in the publications, and he collects royalties. And Bob Buckley is listed as "reinvented for a symphonic band" below and Bob Baker is at the top. And that's how it should be. Permission was requested, granted, appropriate copyright obtained for Bob. It is therefore his music in perpetuity. Whereas before it was just taken," he said.
A fully shared event between the WVYB and Spakwus Slolem, the roughly 30-minute concert alternates between the two bands, like a single symphonic work, Macauley said.
"The Eagle Song group will sing song of the wolf and there will also be dances, and it will turn into a youth group. And then halfway through, the youth group continues with the soundscape below while the song of the wolf come back. And then we finish this, and then the band Eagle Song will do Ravenwho will come directly to the group of young people, do a transmission of Raventhen in The Gathering of Eagles, and it keeps going back and forth," he said.
Macauley said the arts, and music in particular, are "logical" places for the inclusion of First Nations content and culture, given the current strong push for inclusion in school curricula.
"As I said to the kids in the band in 2018, 'You always play beautifully. I'm always proud of you. But this time you didn't just play beautifully, you made history. And you made history. makes a difference.
"When I was on this education committee, I understood why things change or not, but when they do, it's at a snail's pace for First Nations people," he said. -he declares. "And that's because everyone likes to talk about it. … Everyone talks about it, but what are we really doing? … And that's one of the great things about the youth group is that being an independent organization, we can just go ahead and do these things.
"I'm very proud of that and very proud of the band members for how they approached that. And the folks at Eagle Song and Bob Baker have been so incredibly kind and generous," Macauley said. , they don't owe us anything, but they've been absolutely great to work with, they're just artists who share this cultural connection that we have and shows that we're not that far apart.
Registration for the event, as well as further information can be found here.