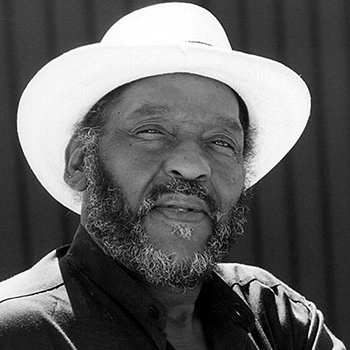 The Laurier Center for Music in the Community announces the Mel Brown Festival and Symposium
WATERLOO – Wilfrid Laurier University's Center for Music in the Community is pleased to announce the Mel Brown Festival and Symposium, which will celebrate black heritage in the Waterloo region and highlight the legacy of the blues musician epic Mel Brown. The festival and symposium will include public events taking place May 27-29 in Waterloo and Kitchener.
Juno-winning musician Carlos Morgan will host concerts showcasing the artistry of black musicians at the Jazz Room, the Kitchener Public Library and THEMUSEUM. Details of these events are forthcoming.
"I am delighted to host and organize the Mel Brown Music Festival performances," said Morgan. "Being part of a team that created this festival to recognize and celebrate the musical influence and legacy of Mel Brown and Waterloo Region Black artists is a wonderful honor.
On May 28, a symposium will be held at Maxwell's Concerts and Events with guest speaker and spoken word artist Afua Cooper, Killam Research Chair in Black History and African Diaspora Studies at Dalhousie University, and two round tables. The first discussion will explore Mel Brown's legacy and influence in this community and will be chaired by Brent Hagerman, a professor at Laurier's Faculty of Music.
The second, chaired by Gerard Yun, assistant professor in the Community Music program, will look at issues of white privilege, racism, and a history of college programming that has resulted in barriers for many students from racialized communities. The participants of these round tables will be announced shortly.
A sister symposium will be held in October 2022 at Cape Breton University in Unama'ki (Cape Breton), NS. The symposium will be organized by the Center for Sound Communities, an arts-led social innovation lab, and coordinated by its director, Marcia Ostashewski. Public lectures, workshops and teacher professional development sessions will be presented with local Mi'kmaq musicians and Malian master musician Lassana Diabaté.
"Celebrating Mel Brown's influence on our music community also gives us the opportunity to shine a light on the great music of black culture around us," said Lee Willingham, project coordinator and director of the Laurier Center for Music in the community. "As a traditional music school at a university, we face a cultural imperative for awareness and action to challenge the systemic white privilege that has historically shaped the practice. This event creates a time and space for this to happen.
The project was born out of a committee created by David Marskell, Managing Director of THEMUSEUM, as confirmation of the Unzipped exhibit showcasing the history of the Rolling Stones was made public. Discussions revealed that Mel Brown introduced Mick Jagger to prominent southern blues musicians in the early stages of the band. Recognizing the broader discussion of decolonization locally and in academic communities internationally, the committee saw an opportunity to examine systemic issues that have long been overlooked in music schools. Project collaborators include several Laurier research centers, York University and Toronto's Regent Park School of Music.
Four objectives guide the planning of the Mel Brown Festival and Symposium:
raise awareness of Mel Brown's legacy and influence on the local music scene for the Unzipped Rolling Stones exhibit;

showcase black artists in live performances at prominent professional venues;

engage black youth in music creation within black cultural traditions; and

examine and identify the systemic racism found in mainstream music schools and explore ways forward.
An original portrait of Mel Brown was created by local artist Ken Daley and is now available on the Mel Brown Festival and Symposium website.
Registration is now open. For more information, please contact Willingham at [email protected]
The Mel Brown Festival and Symposium is funded in part by a Connection Grant from the Social Sciences and Humanities Research Council of Canada.