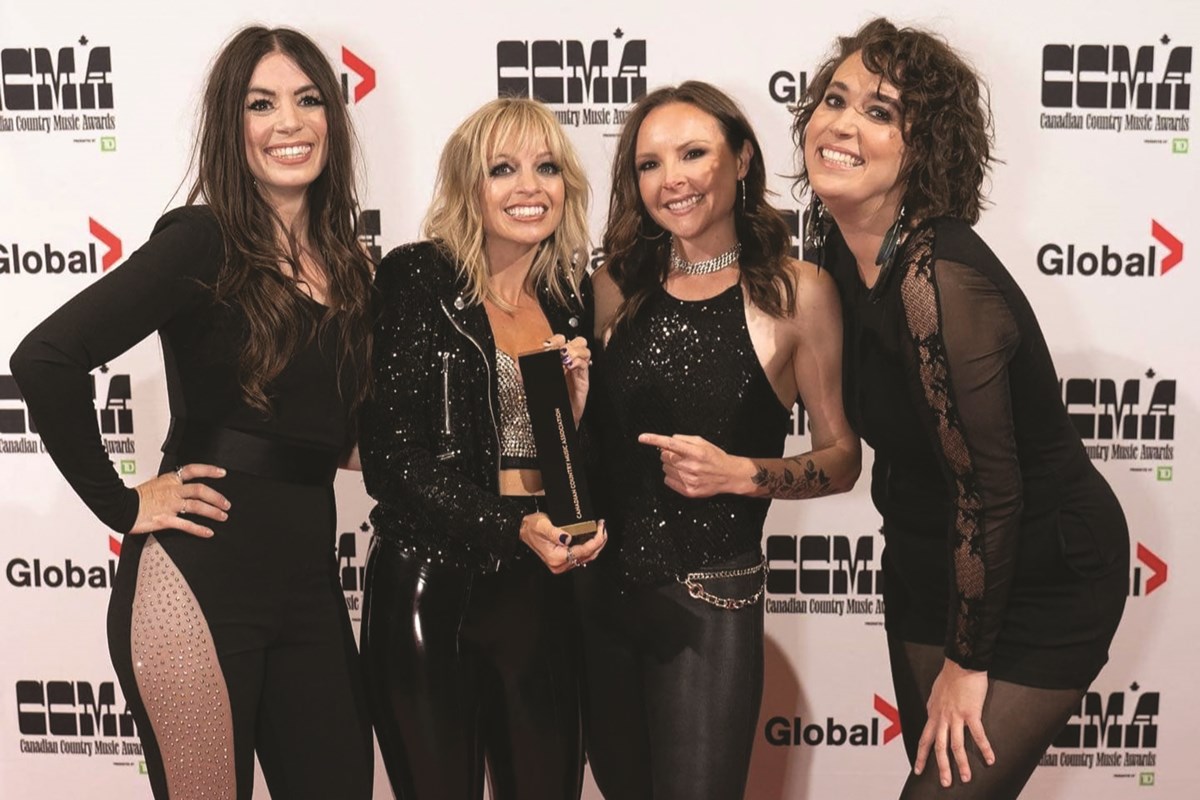 The Airdrie musician and member of a famous Alberta band on stage at the ACMC
"When we started, it was just for fun. [We thought] we can just play rodeos in the Stampede era, and the band ended up taking on a life of its own, and here we are," Rox said.
An up-and-coming musician from Airdrie recently graced the stage at the Scotia Saddledome in Calgary.
Former Airdrie resident Katie Rox performed at the 2022 Canadian Country Music Awards (CCMA) with her all-female country quartet Nice Horse on September 11. The group also won an award.
The four-piece band consists of singer Rox, whose fame also lies in her skills as an acoustic guitarist and banjo player; Tara McLeod, singer and electric guitarist; Brandi Sidoryk, singer and bassist; and Krista Wodelet, singer and drummer.
According to Rox, every member of the Nice Horse group was nominated for an award at the CCMA 2022 ceremony – a milestone occasion for rising stars.
"We each got a Musician of the Year nomination, which was really unique," Rox said. "No full band has been nominated for Musician of the Year, apparently since Prairie Oyster 30 years ago."
Rox, an Airdrionian turned Vancouverite, said she was nominated for Specialty Instrumentalist of the Year alongside her bandmates, who received nominations in their respective categories.
Wodelet received a Drummer of the Year nomination, McLeod was nominated for Guitarist of the Year, and Sidoryk was nominated for Bassist of the Year.
The group was also nominated for Music Video of the Year, thanks to a self-produced music video for a song called High School released last year. In the end, Nice Horse took first place in the music video alongside Sidoryk, who took home the award for Bassist of the Year.
According to Rox, the band missed the awards show on Saturday, Sept. 10 — which was supposed to air the following day, Sept. 11 — because of a gig in Moose Jaw they had already committed to.
"We were somewhere in the middle of Saskatchewan when we heard we won," Rox said of that shining moment. "We had to leave halfway through the CCMAs – we couldn't go to the gala on the night of our awards.
"We love going to Moose Jaw to play, and so we were in the van to play a gig [when we found out]," she added. "We had to drive to play the concert and then turn around and come right back because we had so much to do on Sunday to prepare for the broadcast."
Upon their return, the group performed with Lindsay Ell, a Canadian country artist also from Calgary, on CCMA.
"Lindsay was performing a song called 'Right on Time' and she reached out and texted me and was like, 'Hey would you like to be my band for this performance I'm doing for the discount prices? and we were like, 'Yeah sure,'" Rox said, adding that the rest is history.
Previously, the band has played top festivals across the country (including Boots & Hearts, Big Valley Jamboree and the Calgary Stampede) and performed internationally in Spain and France. They also toured with legendary artists such as Tom Cochrane and the Nitty Gritty Dirt Band.
Since its first reunion in 2015, Nice Horse has received numerous accolades for its work, including two CCMA awards, 10 CCMA nominations and eight Country Music Alberta awards.
Additionally, for two consecutive years (2021 and 2022), the group was named All Genre Group of the Year at the YYC Music Awards as well as Country Artist of the Year at the Western Canadian Music Awards.
"When we started, it was just for fun. [We thought] we can just play rodeos in the Stampede era, and the band ended up taking on a life of its own, and here we are," Rox said.
Rox added that while Airdrie was just a small town when she lived there, it's now home to a vibrant music scene that's sprawling but distinct from Calgary.
"Calgary has an absolutely amazing music scene, and it's part of our home too," she said. "Airdrie is where I come from, but I spent a lot of time in Calgary growing up and the scene there is amazing.
"There are other musicians who work in Calgary but live in Airdrie, so there is a community in Airdrie.
Rox referred to fellow Airdrie resident and country musician Steve Jevne, who is also enjoying success in the Calgary music scene these days.
"He and I went to school together from kindergarten to graduation," she said of her relationship with Jevne.
"The Alberta scene in general is strong – the community, the support is amazing so for me you don't have to go anywhere [to make it]."
Although she now resides in Vancouver, Rox said she spends most of her time in Alberta, creating and releasing new music. She added that she is looking forward to releasing new songs soon.
"It's been a long time…obviously the pandemic has put some things on hold," she said. "We were able to release some things – the music video we won for was the result of how we do a creative music video during a pandemic."
She added that Nice Horse has new music slated for release this year or early next year, and she appreciates coming back to live performances.
"Being able to play again, we just played a full summer and then we recorded, we can't wait to get that out there for people," she said.