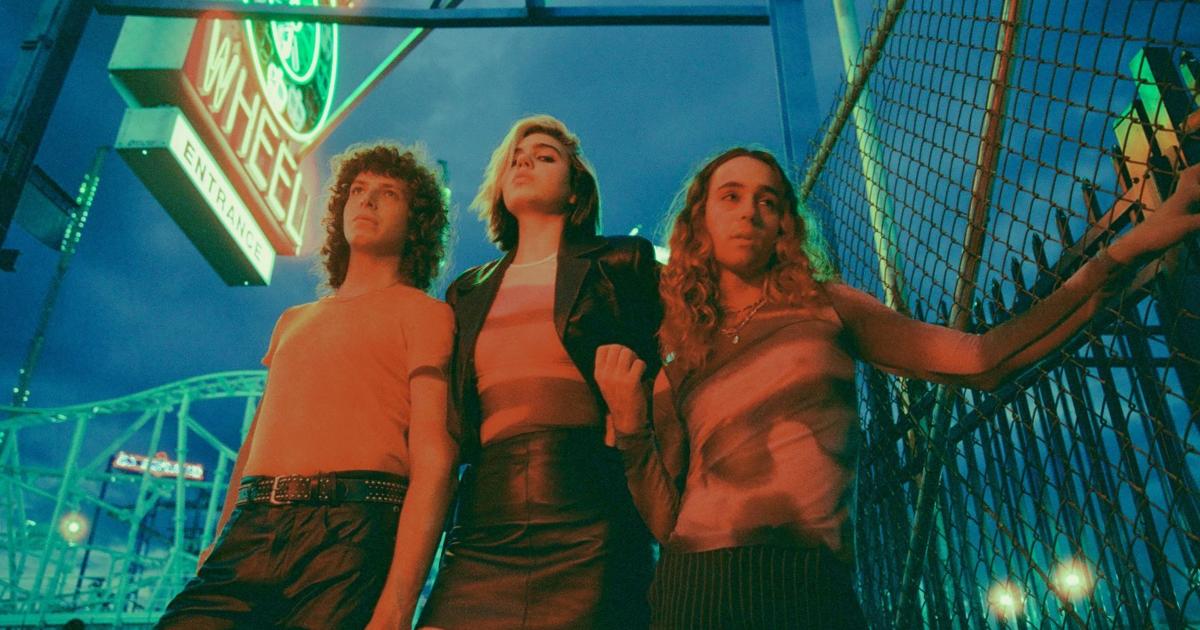 Mid-Winter Music Options Galore: Exceptional Concerts at Essex Jct., St. Johnsbury, S. Burlington | Vermont Arts
For such a short month, February is seriously filled with a plethora of compelling musical options. Here's a look at seven notable deals in the coming week:
Monday: Tribute to Aretha Franklin
Led by musician and songwriter Damien Sneed, who toured with powerhouse singer Aretha Franklin in the final years of her illustrious career, the multimedia tribute to the Queen of Soul also features singer Valerie Simpson, best known as half of famed Motown songwriting duo Ashford & Simpson, and an accomplished cast of musicians and singers.
"A Tribute to Aretha Franklin: Queen of Soul" is at 7 p.m. on Monday, February 21 at Fuller Hall, St. Johnsbury Academy (KCP Presents). Tickets cost between $15 and $56 (free for students); call 888-757-5559 or go online to www.catamountarts.org
Monday: Wild Rivers
Formed in the mid-2010s at Queens University in Kingston, Ontario, Toronto indie-pop band Wild Rivers are celebrating their long-awaited second album "Sidelines", released two weeks ago via Nettwerk.
The band's first full-length album since their self-titled debut in 2016, "Sidelines" is a gripping 10-song set that was co-produced by the band – 20-year-old Khalid Yassein (guitar, vocals, keyboards), Devan Glover (vocals) and Andrew Oliver (guitar, synths) – and Grammy-winning producer (and UVM graduate) Peter Katis (The National, Interpol, Sharon van Etten).
"Resting somewhere at the nostalgic and soulful intersection of pop, folk and indie-rock, the album weaves introspective lyrics with beautiful, puffy instrumentation," Dublin magazine Hotpress said. And Charlottesville newspaper C-Ville Weekly called it "a coming-of-age album that captures all the uncertainties, aspirations and struggles that young adulthood has to offer."
Wild Rivers and opener Corey Harper perform at 8 p.m. Monday, Feb. 21 at the Higher Ground Showcase Lounge, S. Burlington. Tickets are $19 in advance, $21 the day of the show (all ages); call 888-512-7469 or go online to www.highergroundmusic.com
Tuesday: Clem Snide
Clem Snide is the nickname of famed Israeli-born, Nashville-based singer-songwriter Eef Barzelay, who NPR called "the most underrated singer-songwriter in the industry today, with a grip slyly firm on emotion and humor".
Formed as a trio in Boston in the 1990s, Clem Snide would go on to become a cult favorite and critical favorite over the course of three decades and more than a dozen albums. A relatively recent fan is Seth Avett of famed roots rock band Avett Brothers, who produced and performed on Clem Snide's magnificent 2020 album, "Forever Just Beyond."
The album, Clem Snide's first in five years, follows a 10-year period of woe for Barzelay, 51, a time he describes as "a roller coaster of deep despair and incredible opportunity that unfolds. present one way or another at the last possible second".
"This comeback album," Pitchfork said, "feels charmingly at ease and refreshingly ambitious, grappling with life's big questions over low-key, laid-back production."
Clem Snide performs at 7:30 p.m. Tuesday, February 22 at the Higher Ground Showcase Lounge, S. Burlington. Tickets are $15 in advance, $18 the day of the show (all ages); call 888-512-7469 or go online to www.highergroundmusic.com
Wednesday: Lawrence
Led by the ultra-talented sibling duo of 28-year-old Clyde Lawrence and 24-year-old Gracie Lawrence, New York soul-pop band Lawrence bring their dance- and keyboard-appropriate pop to support their album of 2021 "Hotel TV", released in July.
Lawrence and the MLLN opener perform at 8 p.m. Wednesday, Feb. 23 at the Higher Ground Ballroom, S. Burlington. Tickets are $25 in advance, $28 the day of the show (all ages); call 888-512-7469 or go online to www.highergroundmusic.com
Thursday: Midnight North
A four-piece multi-instrumentalist band from San Francisco with songwriting roots in folk and Americana – the core trio consists of frontman Grahame Lesh (son of Grateful Dead bassist Phil Lesh), Elliott Peck and Connor O'Sullivan – Midnight North kicks off an eight-date mini-tour of the Northeast in support of his fourth album "There's Always a Story", released in July.
Opening the show is up Rochester, New York singer-songwriter Mikaela Davis, 29, a classically trained harpist who is performing with her band ahead of a new album slated for release this year.
Midnight North and opener Mikaela Davis perform at 8 p.m. Thursday, February 24 at Double E, Essex Junction. Tickets are $20 (all ages); call 802-876-7152 or go online to www.doubleevermont.com
Thursday: Sunflower Bean
Brooklyn-based pop-rock trio Sunflower Bean – vocalist/bassist Julia Cumming, guitarist/vocalist Nick Kivlen and drummer Olive Faber – begin their four-month tour Thursday at the Higher Ground Showcase Lounge ahead of the release of their second album "Headful of Sugar," slated for a May 6 release on Mom + Pop.
The album follows the band's acclaimed second album of 2018, "Twentytwo in Blue", which the band described as "an ode to the fleeting innocence of youth". And while Sunflower Bean are known for their eclectic rock aesthetic, the band says they didn't take inspiration from the rock canon for "Headful of Sugar."
"We worked quickly and passionately in the primary colors, following only our instincts of what inspired us at the time," Kivlen explains in a new release. "We weren't precious about anything – there was a joyous anarchy."
Philadelphia freak-pop band Empath and rising Burlington singer-songwriter Lily Seabird open the show.
Sunflower Bean and Empath and Lily Seabird perform at 8 p.m. Thursday, Feb. 24 at the Higher Ground Showcase Lounge, S. Burlington. Tickets are $17 in advance, $20 the day of the show (all ages); call 888-512-7469 or go online to www.highergroundmusic.com
February 26: Brian Fallon
Best known as the frontman of former outstanding rock band The Gaslight Anthem, acclaimed New Jersey singer-songwriter Brian Fallon has released three acclaimed solo albums. His latest is "Local Honey", acoustic and introspective, released in 2020 on Thirty Tigers. The American songwriter called the album "his greatest achievement to date".
Brian Fallon & the Howling Weather and openers Worriers and hurry perform at 7:30 p.m. Saturday, February 26 at the Higher Ground Ballroom, S. Burlington. Tickets are $30 in advance, $35 the day of the show (all ages); call 888-512-7469 or go online to www.highergroundmusic.com
ThomasWhuntington @hotmail.com