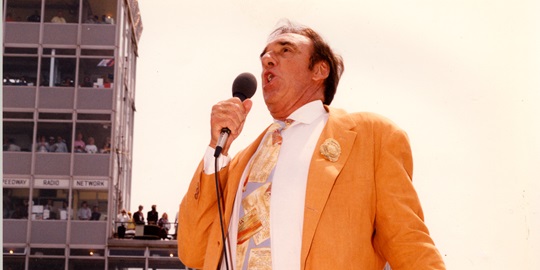 Indianapolis Motor Speedway
Purdue 'Back Home Again' Singers Share Memories of Magical Moment
Picture this: The biggest one-day sporting event on the planet is moments away from roaring, and the racing capital of the world is falling silent. All 33 pilots and a crowd of more than 325,000 are ready for an Indianapolis 500 institution: the singing of "Back Home Again in Indiana."
It will be an emotional moment on Sunday during the pre-race festivities for the 106th race of the Indianapolis 500 presented by Gainbridge (11 a.m. ET, live on NBC, Telemundo Deportes and the INDYCAR radio network).
For the sixth consecutive year, Jim Cornelison will sing the song that has become an anthem for millions of racing fans. It makes even more sense this year as Indianapolis Motor Speedway welcomes back its legions of racing fans to full capacity for the first time since the COVID-19 pandemic began.
Although "Back Home Again in Indiana" at the IMS dates back to 1919, when a trackside marching band performed the song as Hoosier Howdy Wilcox was on his way to victory, it's only more dated. t a quarter of a century later, in 1946, that beloved Indianapolis 500 tradition became a staple of "The Greatest Spectacle in Racing."
On May 30, 1946, the Indianapolis 500 returned from its four-year hiatus due to World War II. To commemorate the Thursday morning special, famed New York Metropolitan Opera singer and avid car collector James Melton performed the ballad about an hour before the start of the race.
At a time when pre-race festivities were not common, Melton's booming voice in public discourse silenced the Speedway. The response to Melton's performance was so overwhelming that he was invited back for the next few years. In 1949 the performance was moved closer to the start of the run, roughly where it is today, and Melton performed several times between 1946 and 1954.
From then on, the beloved Indy 500 pre-race song was performed by many celebrities, such as Morton Downey Sr., Dinah Shore, Dennis Morgan, Mel Torme and, of course, Jim Nabors, who made the song famous by singing its way into Hoosier's heart 36 times between 1972 and 2014.
There are seven men still living who sang "Back Home Again in Indiana" nearly 50 or more years ago. Four were celebrities: actors Ed Ames and Peter Marshall, and opera singers/singers Saverio Saridis and John Davies.
The Purdue University All-American Marching Band has backed most of the "Back Home Again in Indiana" performers since 1946, and several Purdue alumni have even played the person behind the microphone thanks to Purdue Glee manager Al Stewart. Club for years.
While Nabors made the performance a specific, scheduled moment, in the years leading up to 1972, singing "Back Home Again in Indiana" was often a last-minute affair in conjunction with the Purdue All-American Marching Band.
Through this partnership, when a scheduled singer failed, Speedway relied on Purdue to fill the pre-race void, often at the very last minute.
Three Purdue University alumni who preceded Nabors' performance are still alive today, everyday people with miraculous stories of singing "Back Home Again in Indiana" before the biggest sporting event of a year began. day in the world.
Here are their stories:
---
David Cochard (1962)
Dave Cochard basically got the chance to play "Back Home Again in Indiana" during the Indianapolis 500 pre-race in 1962 at the age of 21.
Cochard was sitting in the Purdue Glee Club manager's office two days before the Indy 500, talking with his coach when the phone rang. It was someone from the Indianapolis Motor Speedway.
Actor Gordon MacRae, who was supposed to sing the song that year, had contracted laryngitis and the Speedway needed a replacement. Cochard's manager, Stewart, looked up at him and said, "I've got a gentleman just across the desk who could do that."
Suddenly, Cochard was asked to sing "Back Home Again in Indiana" on May 30, just days before he was to graduate from Purdue with a degree in dairy farming. He joined the Air Force and later had a career as an airline pilot.
He drove down from West Lafayette, Indiana, with his wife on race morning and grossly underestimated the traffic. Eventually, he made it to the facility, only to find that no one had given him a parking pass or accreditation.
Cochard spent two hours in traffic and smashed into the track just an hour before performing. He had to fight his way past security and made it to the score tower just 20 minutes before getting ready to perform the beloved song.
It wasn't the first time he sang. Cochard sang with the Purdue Glee Club at the 1959 Indianapolis 500. It has since become a family affair as his granddaughter performed in the Purdue band on "Back Home Again in Indiana" in 2018 and 2019.
"A lot of people sat up and shook their heads when I told them, because it was so impromptu it would freak anyone out," Cochard said. "It was the most fantastic day of my life. I have no problem telling anyone that.
"As a farm boy from Greenfield, Indiana, you simply cannot imagine a day like this in your life."
---
Russ Wunderlich (1967)
As Russ Wunderlich was told, the Indianapolis Motor Speedway forgot to reserve a singer for the 1967 Indianapolis 500.
The week before the race, Stewart, still manager of the Purdue Glee Club, called Wunderlich and asked him to sing the famous song. Wunderlich had performed several times at major Glee Club events, and Stewart trusted him to do the song justice.
So Wunderlich stepped into the spotlight with just one practice under his belt, having been warned just days before the race.
"It was just so much fun and such a great memory," he said. "It is a page of my history. It was pretty cool to be 23, to go and do that at the Indy 500. I'm humble about that, sure, but I'm very proud of it. I feel very honoured. I hold him dear in my heart.
Wunderlich graduated from Purdue with a degree in mechanical engineering shortly after this performance and continued his career in the northern Illinois family business: garage door openers.
---
Richard Plothow (1968)
Richard Plothow received fairly simple instructions one day in the spring of 1968 from Stewart: "Run to the band's rehearsal room and run through 'Back Home Again in Indiana' with them, and here are two tickets to the Indianapolis 500. Be on the track at 11 a.m.
The Speedway needed someone to sing "Back Home Again in Indiana" that year, and as Speedway staff often did, they contacted Stewart looking for someone to fill the job.
Luckily for Plothow, Stewart saw him as the right guy.
Plothow left West Lafayette at 6 a.m. thinking he would surely have beaten the race day traffic. Instead, he got stuck about 10 miles from the Speedway. So he figured he'd head downtown Indianapolis to catch a bus. Surely that would be faster, right?
Bad. The line to get on the bus wrapped around the block. Finally, around 9 a.m., he got on a bus. An hour and a half later he was at the racetrack.
With 30 minutes to spare, Plothow began marching through the gigantic racetrack which was filled to the brim with racing fans. He arrived at the pit lane gate at 10:45 a.m. and told the security guard he had to be with the Purdue group.
The security guard let him through, and when Plothow came on stage, someone handed him a microphone, and it was time to sing.
"It was such a weird kind of thing," he said. "I was under so much pressure to get there that when I got there they gave me the mic, and I didn't even think about the fact that there were 250,000 people there. It was a very special event in my life. »