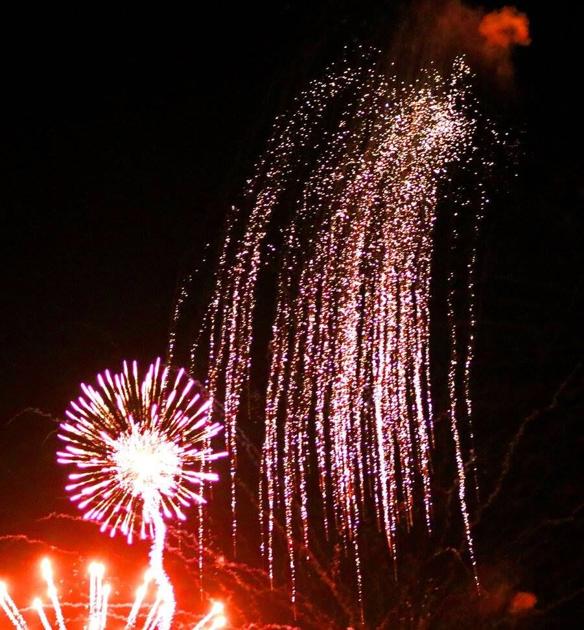 Go Fourth and Celebrate This Holiday Weekend | Entertainment
Whatever your level of interest in celebrating America, we have a few activities to enjoy this vacation weekend. From fireworks and fresh air to food and fun, here are a few reasons to brave the heat.
Friday
"Hello America! ": The US Air Force Orchestra of the Golden West will perform in the open-air theater of the Simonsen Performing Arts Center at Bakersfield College. 1801, scenic route. Stationed in the Bay Area at Travis Air Force Base, the Band of the Golden West is the only active-duty Air Force group west of the Rockies, with approximately 60 versatile airman-musicians under the command of Major Joseph S Hansen.
Doors open at 6 p.m., with free concert from 7 p.m. to 8:30 p.m.
Concert of the Tehachapi Symphony Orchestra: Instead of performing their usual concert at Coy Burnett Stadium, the orchestra held a live concert on June 27, recorded at the Country Oaks Baptist Church. Music lovers can rejoice that the patriotic performance is available now on the TSO's Facebook page (facebook.com/tehachapisymphony).
Saturday
Shafter's July 3rd Fireworks Celebration: Doors open at 6 p.m. on Saturdays at Shafter High School Recreation Field, 526 Mannel Ave. Burgers, hot dogs, funnel cakes, crushed ice and other treats will be available for purchase. No alcohol or barbecue are allowed.
Event host Angel Jimenez will kick off the fireworks display at 9 p.m. with a welcome, presentation of the flag salute, national anthem and invocation, followed by the spectacular fireworks display. firework designed by Zambelli International.
The celebration is free to the public, but donations are welcome and will offset the cost of the fireworks display, which is paid for by the Shafter Chamber of Commerce.
Starry Spectacular Fireworks Show: The Kiwanis Club in Delano is ready for its annual show which begins at dusk with fireworks fired from the north end of Delano Airport.
Spectators gather at the nearby Memorial Park (100 S. Lexington St.) to watch the show. Earlier today, vendors set up attendee support.
The new and exciting aerial fireworks show will be produced by Zambelli Fireworks, proudly known as the "First Family of Fireworks", whose West Coast operations are based in the Bakersfield / Shafter area. Zambelli is one of America's oldest and largest fireworks companies and has exhibited artistic excellence in fireworks for over 100 years.
Lake Isabella July 4th Show: The Kern River Valley Chamber of Commerce is putting on the show which will begin around 9:30 p.m. or when the sun has completely set over the mountain and the winds are calm.
Fireworks will be fired at the end of Engineers Point in the center of the lake, making the show visible from various locations in the area.
Most of the funds for the $ 25,000 show were raised by Jami and Shawn Ward as part of Jami's successful 2020 campaign for mayor of Whiskey Flat Days, reported the Kern Valley Sun. Additional funds will go to the 2022 presentation.
Pre-independence day: Mento Buru will take advantage of the slightly chilly weather in Tehachapi as it crashes at Local Craft Beer, 365 Enterprise Way G (behind Home Depot on the left in the industrial park). Sip an Ermahgerd Slurshy in Meyer lemon / tangerine / orange or mango / raspberry while feeling like an irie while listening to the ska sounds of the ubiquitous party band. The fun runs from 7 p.m. to 10 p.m. at the free show. For more information, call 661-822-2337.
Tehachapi vineyard (22136 Bailey Road, Tehachapi): Reservations are recommended to relax in the cellar with a Santa Maria style barbecue available at Tipsy Pig BBQ. Boxes of Sweetpea Charcuterie and Ecuadorian chocolate bars from local distributor The Chocolate Farm EC will also be available for purchase. And of course there will be plenty of wine to taste with a performance by Hair of the Dawg from 2 p.m. to 5 p.m. Call 661-821-9587 to reserve your spot.
Sunday
32nd Annual Westchester Parade: The parade begins at 8:30 am sharp in 22e and Elm streets. Families and kids in party gear on bikes and scooters will head east to B Street, continue south on B, then west on 20th Street to end at the cul-de- bag from 20th and Elm streets.
Independence Day Celebration: Bakersfield is back with its fireworks display at the Park at River Walk (11298 Stockdale Highway). Produced by Zambelli Fireworks, the presentation sponsored by the Robert Grimm Family Foundation will begin at 9:15 p.m. with musical accompaniment by 97.3 The Bull. Those watching can tune in to their radios on-site at the park or at home where the show will be broadcast live on 23ABC's TurnTo23.com digital platform as well as Roku, Apple TV and Fire TV.
July 4 All-American Festival: Tehachapi has you covered for a day of patriotic fun at Philip Marx Central Park (Mojave and E streets).
The All-American 5K, hosted by the Tehachapi Valley Recreation and Park District, starts at the southwest corner of the park at 7 a.m.
Runners and hungry members of the public can enjoy the on-site Ed Grimes Memorial Pancake Breakfast, which runs from 8 a.m. to 10 a.m. Tickets cost $ 5, with the proceeds going to the Tehachapi High School warrior football program.
From 9 a.m., the Tehachapi Valley Arts Association will organize its craft fair, featuring local artisans and unique items for sale,
There will be a Bravery Wall, honoring the men and women of local service, hosted by the American Legion, and the city will host a color show, flag raising ceremony and national anthem at noon. .
The American Legion will once again host the Wall of Valor, honoring the men and women of local service, while the town of Tehachapi will host a color presentation, flag raising ceremony and the national anthem at noon.
From 11 a.m. to 4 p.m., food vendors will be set up in the park and the Tehachapi Valley Wrestling Club will raise funds with its beer garden.
Live entertainment kicks off on the Northwest Stage with local artist Averee Napier at 12:15 p.m. followed by Ryan Sillifant at 1:00 p.m. Local band Americana Muleskinner Revival will perform from 2:15 p.m. to 4:00 p.m.
The activities move to the Tehachapi Rodeo Grounds and Event Center (Dennison Road and Highway 58) where the Tehachapi Mountain Rodeo Association will present the Bad Bulls riding event at 6 p.m. Tickets are $ 19, $ 15 for children ages 5-15, military and veterans ages 60 and over, available at eventbrite.com.
Red House BBQ will serve food at the rodeo, offering tri-tips, hot links, smoked turkey thighs, elotes (grilled corn), pineapple cucumber cuts (with lime, Tajin and chamoy) and frozen margaritas.
A spectacular fireworks display, coming from the north side of Tehachapi Municipal Airport, crowns the night with the show starting at 9 p.m.
The festival is again presented by AES Clean Energy. To learn more about Tehachapi events, visit tehachapinews.com.
Food
the Haggin Oaks Farmers Market (8800 Ming Ave.) marks its return after a hiatus since last March. It returns from 9:00 a.m. to 2:00 p.m. Sunday at the Kaiser Permanente parking lot near The Marketplace with many local favorites like Ayden's Eggs, Brother Ray's Salsa, Caffeine Supreme with its cold brew coffee and teas, Howie's Micheladas and many more. other.
You can also stock up on fresh produce and merchandise for this weekend at the F Street Farmers Market (3201 F St.) from 7.45 a.m. to noon on Saturday and The Hens Roost (1916 G St.) from 9 a.m. to 2 p.m. on Saturday .
Martin's meat and charcuterie market (801 21st St.) offers barbecue meals.
The Big Boom ($ 108.25) feeds up to 12 people with a whole tri-tip, a rack of St. Louis pork ribs, whole chicken, five hot Louisiana ties, 2 pounds each of prepared rice and chili beans, a dozen buns, 16 ounces of salsa and 8 ounces of barbecue sauce.
Those planning a smaller event can order other family deals for $ 43.30. Choose between three spikes (# 1) or deep-core beef (# 2), both of which are served with 1 pound of rice and beans, six buns and 8 ounces of salsa.
All orders must be placed by 3pm on Saturday and prepaid by credit card, cash or Venmo (@ Martin-Chavez-81).
Collect your July 4th Bars now at La Rosa Fruit and Ice Cream Bars. With patriotically colored stripes of red (cherry), white (coconut), and blue (bubble gum), the treats are $ 1.50 or $ 18 for a dozen. Call 619-9359 to order with pickup at the store lane entrance, 1317 Niles St.
Eureka! (10520 Stockdale Highway) serves a specialty cocktail: The American Spirit, an adult version of a Bomb Pop, a frozen treat many of us remember in the summers chasing an ice cream truck. Like the soft drink, the drink is layered in red, white, and blue, with flavors of vodka and cherry, lime, and blue raspberry in small batches.
This cocktail will be available until July 27. For diners it's $ 13 but for those celebrating at home, the take out version, which serves up to four people, is $ 25.
Black Angus Steakhouse (3601 Rosedale Highway) offers two July 4th packages. Its steak package ($ 269.99) can feed up to 10 with a choice of two starters (three-cheese garlic bread, loaded potato peels, original chicken fillets or chipotle-buffalo, spinach and artichokes or crispy fried zucchini with garlic and pepper), sirloin platter, fresh broccoli with garlic butter, house mashed potatoes, garden salad and two dozen chocolate chip cookies.
Meanwhile, the BBQ package ($ 299.99) includes four barbecue grills or ribs and eight fire-grilled chicken breasts as entrees with the same items from the other vacation package.
Rubio's Coastal Grill (9200 Rosedale Highway, Suite 200) has a Family Offer from July 4th Friday through Monday. Guests can receive two entries for $ 15 by printing or showing the coupon at rubios.com/coupons/July-4th-2021 when ordering in store. For online or mobile app orders, use promo code MKTG1148 for two entries for $ 15 or code MKTG1149 for four entries for $ 30. The offer is good on the two-taco platters, burritos, salads, bowls, the shrimp trip and the coastal trio.
If you want tacos for your holiday feast, head to Fuego bar and grill (3603 Coffee Road), which will have a deal Sunday for 18 tacos, 32 ounces each of rice and beans, and four drinks for $ 40.
Stefani Dias can be reached at 661-395-7488. Follow her on Twitter at @realstefanidias.