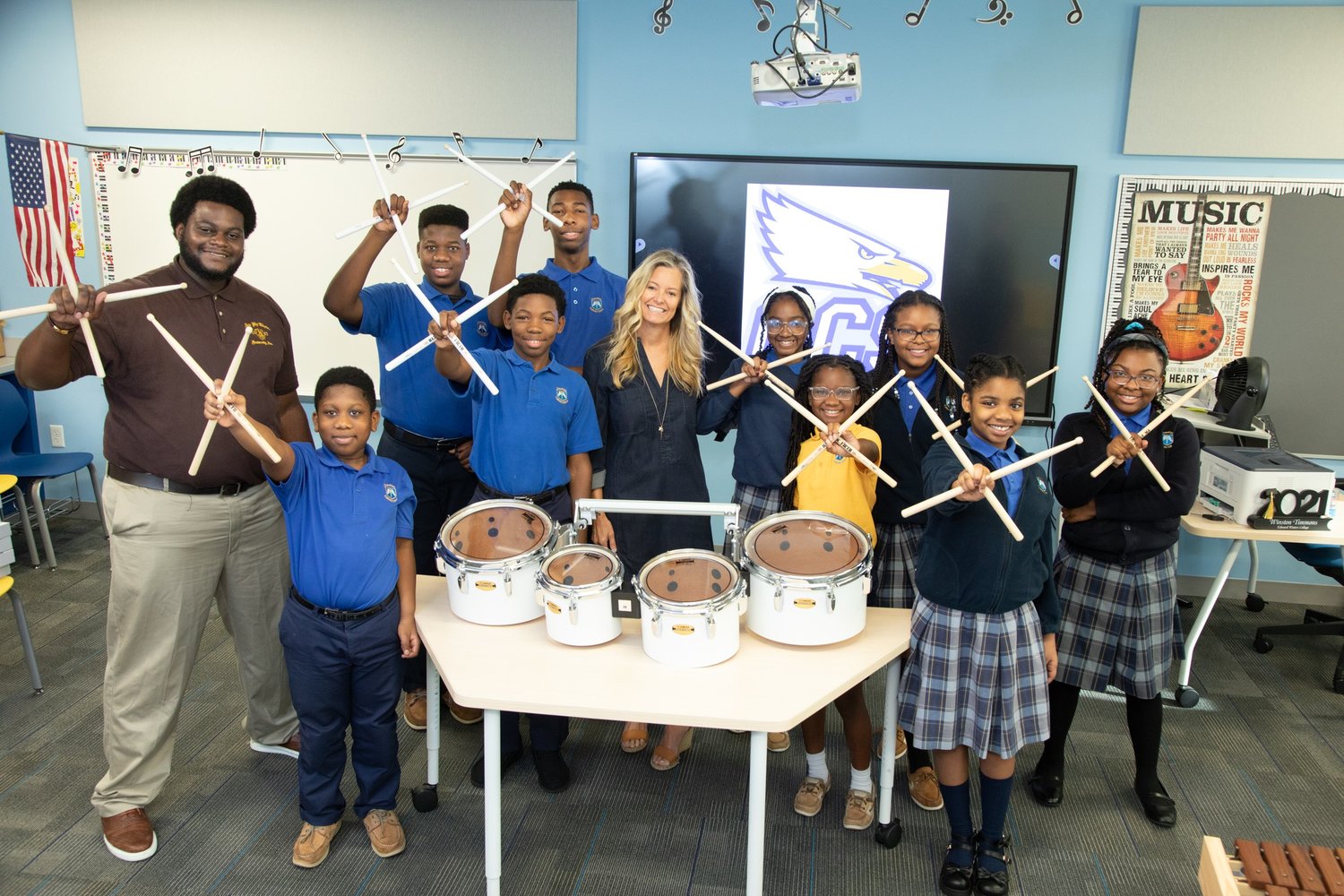 Furyk Foundation provides private school band with musical instruments
The Guardian Catholic School's music program recently received a big boost thanks to the Jim & Tabitha Furyk Foundation. The donation of nearly $16,000 brings a host of percussion instruments as well as new keyboards and xylophones.
"There are so many amazing things that the Guardian Catholic School tries to accomplish, and given that our foundation is focused on specific projects, it's a perfect match," said Tabitha Furyk. "Learning to read music really gives these students an opportunity to develop their future and to be able to give them these instruments and see this program grow will be amazing. We are happy to be part of it.
The Furyks have been dedicated Guardian supporters for many years and were spurred into action after learning of a desire to expand the Guardian music program, a goal of the school's new music teacher, Winston Timmons. Much of the donation from the Furyk Foundation went towards efforts to create a drum line.
"Having a drum line at Guardian will further complement our program and bring so much excitement to our sporting events," said Timmons, who joined Guardian Catholic last year after graduating from Edward Waters University where he served as battery leader. "Helping children as young as first grade read music and understand the basics often fuels a lifelong passion for music. I'm excited to start my own traditions at Guardian, including a group program; my vision is to bring more and more children to discover music.
"On behalf of the Guardian Catholic School Board of Trustees, we would like to thank the Jim and Tabitha Furyk Foundation for their tremendous support of Guardian's music program," said Board Chair Jane Lanier. "Thanks to the generosity of Tabitha and Jim, our students have many new musical instruments and they are learning to read music – even our second graders! Quality educational opportunities like this found at Guardian give every child a chance to succeed Furyk's tireless work for children, especially the most vulnerable, is recognized and appreciated by all of us at Guardian.