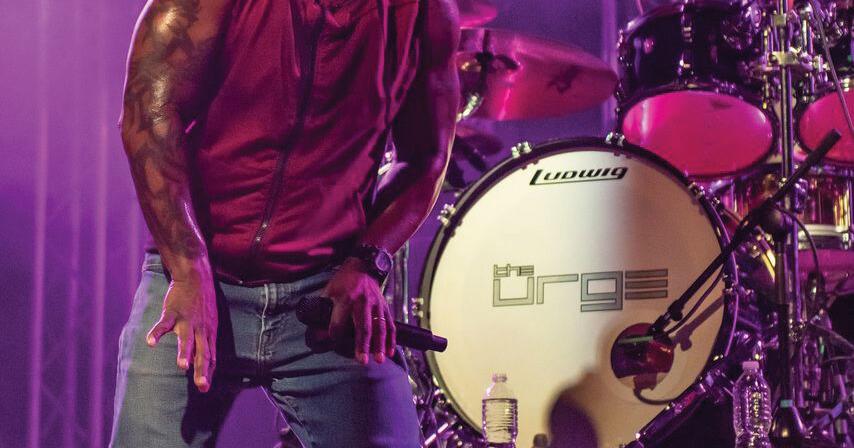 Envy | Webster Kirkwood Times
When Music at the Intersection returns for a second year next weekend, Steve Ewing, graduate of Webster Groves High School, business owner and lead singer of The Urge, will be front and center.
Joining him on stage will be bandmate and bassist Karl Grable – also a graduate of Webster Groves High School. The two-day festival features national and local artists celebrating the musical, cultural and artistic heritage of St. Louis. It will be held on September 10 and 11 on four stages in the Grand Center Arts District. Grammy-winning rhythm and blues artist Erykah Badu and nationally acclaimed recording artist Gary Clark Jr. – best known for his fusion of blues, rock and soul – will headline the event.
R&B icons will be joined in the lineup by St. Louis alternative rock band The Urge, international indie soul band Hiatus Kaiyote, blues guitarist Buddy Guy, jazz saxophonist Kamasi Washington, soul band- rock JJ Gray & Mofro, and others offering R&B, blues, jazz, soul, hip-hop and rock 'n' roll. More than 50 national, regional and local artists are scheduled to perform at the outdoor festival, which spans Washington Avenue just east of Grand Boulevard.
"I think the music lineup they have is amazing," said Ewing, a 1988 Webster Groves High School graduate who also owns Steve's Hot Dogs on Grand Boulevard in St. Louis.
Music at the Intersection first took place last year, but this year will be The Urge's first time performing. Ewing said the band was approached to do the show a few years ago, but this year things seemed to be working out.
Ewing said he expects The Urge to stand out from other musicians, primarily because of the genre of music the band plays. Music at the Intersection primarily features R&B and hip-hop genres.
"And we're not – we're rock, we're punk, so it's going to be a contrast," Ewing said.
The Urge plans to shuffle their set list when the band take the stage at the festival on Saturday night. The band will not only play their radio hits that many will recognize, but also some of their lesser-known songs. Ewing said he and the band members made this decision to attend because they expected to perform to a new audience at the festival.
"There won't be this expectation that we have to play these songs," he said, referencing The Urge's hits like "Jump Right In," "Brainless," "Too Much Stereo" and d 'others.
"We can go out and play songs that we really like to play," he added.
Music at the Intersection celebrates St. Louis's imprint on American music, as well as the city's relationship with its sister cities on the Mississippi River and the musical genres and artists that were born locally.
"I hope this will perpetuate the need for people to discover local artists, because there are a lot of really good musicians in St. Louis," Ewing said.
Ewing attributed his childhood in Webster Groves — and St. Louis as a whole — to his love of music and his interest in joining a band.
"It was a cool thing to do. It wasn't weird or weird," he said. "Webster Groves, and graduated in the late '80s, was a pretty cool place."
That dream came true during his freshman year at Webster Groves High School when a friend mentioned The Urge was looking for a singer. The other band members also met in high school. While Ewing was in the Class of 1988, drummer Jeff Hershel graduated in 1986 and bassist Grabel, who will play with Ewing at next week's music festival, graduated in 1985. The band member Pat Malacek graduated from high school at St. Louis University.
"I met the rest of the band through the drummer's sister," Ewing said. "I auditioned and was in. We started playing house parties, VFW venues and small bars right away."
The Urge was soon playing local clubs and later on tour. These days, Ewing said The Urge plays around 10-15 shows a year, but all of its members also play in other bands.
The Urge's performance at Music at the Intersection begins at 7:45 p.m. on Saturday, September 10 on the field stage. For more information about the festival or to purchase tickets, visit musicattheintersection.org.
Hadley Hoskins is a student at Webster Groves High School and was a summer intern for the Webster-Kirkwood Times.