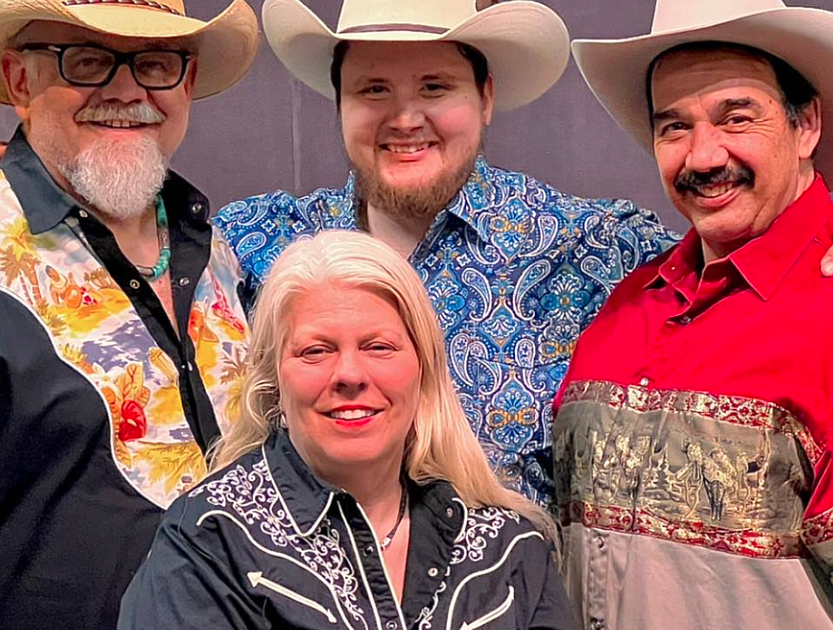 Cosmic Wagon: A big sound for a big universe!
Cosmic Wagon is a very unique ensemble of four musicians combining different musical backgrounds and tastes to create a big sound for a big universe.
Formerly known as the Matt Renner Band, Cosmic Wagon brings together Matt Renner, Ella Ellinghausen, Robert Artz and Clayton Howard to produce a combination of country and bluegrass like no other.
Matt Renner plays fiddle and mandolin in the band and has been making music since he was 10 years old. Matt's song lyrics describe growing up in a boxcar – in fact, the boxcar is currently parked outside Matt's house south of Coeur d'Alene. It's actually a trailer his dad pulled on a cross-country trip in his 1953 Chevy station wagon.
Matt's travels took him to the National Oldtime Fiddlers' Contest in Weiser, Idaho when he was 10 years old. There he began to play the violin and the mandolin. He eventually settled in Sun Valley, where he played with bluegrass band Slow Children for over 20 years. He moved to northern Idaho in 2012.
Ellinghausen started on piano and switched to accordion, as pianos proved difficult to climb stairs. A client paid her for a website design job with a guitar, which Ellinghausen says "changed my life" because the instrument allowed her to meet and connect with people in a very different from the piano and the accordion.
One of those relationships was with Renner, in Weiser, at the annual Old Time Fiddlers Competition. Renner encouraged her to continue playing guitar, and they began performing together as a duo. After moving to Coeur d'Alene, they found a bassist and landed a regular gig at the Silverwood theme park, which she says forced her to up her game quickly.
Renner and Ellinghausen found Artz through a Craigslist ad. Artz grew up in the Tri-Cities in a musical family – his father was a country and western singer who played VFW dances while his brother played bass and guitar. Artz's introduction to the music business was playing guitar with the Three Rivers Dulcimer Society, a group of Tri-Cities musicians centered around the Appalachian dulcimer, but which welcomes musicians with all kinds of backgrounds. instruments to play with them.
Artz hit the road at the age of 18, traveling through Alaska, listening to and playing all kinds of music. He found Renner and Ellinghausen through Craigslist and has been writing songs and performing with them for three years.
Howard is the newest addition to what has become known as Cosmic Wagon. He grew up in Southern California and started playing music as the new sound of country-rock emerged in LA Howard worked as a pipe welder by day, retiring in 1999 to pursue music full-time. time, playing LA clubs and recording and releasing a CD.
Like many musicians, the reality of the music industry in California proved less appealing than he had hoped and he headed north to Idaho in 2006 where he played open mics. and joined any band he could on guitar, bass or drums. He eventually joined local bluegras band Moses Willey on guitar. When the Matt Renner Band needed a bassist, he joined the band and soon after the name was changed to Cosmic Wagon.
Cosmic Wagon was chosen as an inclusive name reflecting four songwriters who each contribute original music to the band. Despite their sound and image as an old-school country and bluegrass band, the group also has an affinity for hippies, which led them to the word "cosmic". The "wagon" is, of course, a reference to Renner's covered wagon. Robert says "cosmic" also reflects the grand universe we live in and the band's desire to create a sound big enough to reflect that. Howard describes the band as unique in that everyone writes songs, and yet egos never seem to get in the way.
Listen to hits like Matt's "Bein' Me", Robert's "Never Be That Lonesome Again" or fantastic covers of "Freight Train" and "Orange Blossom Special".
No matter what song they play, expect to hear great songs, fantastic violin and mandolin playing, and the sound of early music played with unique dynamism and energy.
Cosmic Wagon can be seen in the following locations:
● Tonight at The Snake Pit in Silver Valley (Kingston)
● August 26 at McDuff's Brewery, Sandpoint
● September 3 at The Snake Pit
● September 4 at Big Barn Brewing, Green Bluff
• • •
Tom Richards is a music lover, lead singer of local blues band Dr. Phil & the Enablers and owner of The Snake Pit.