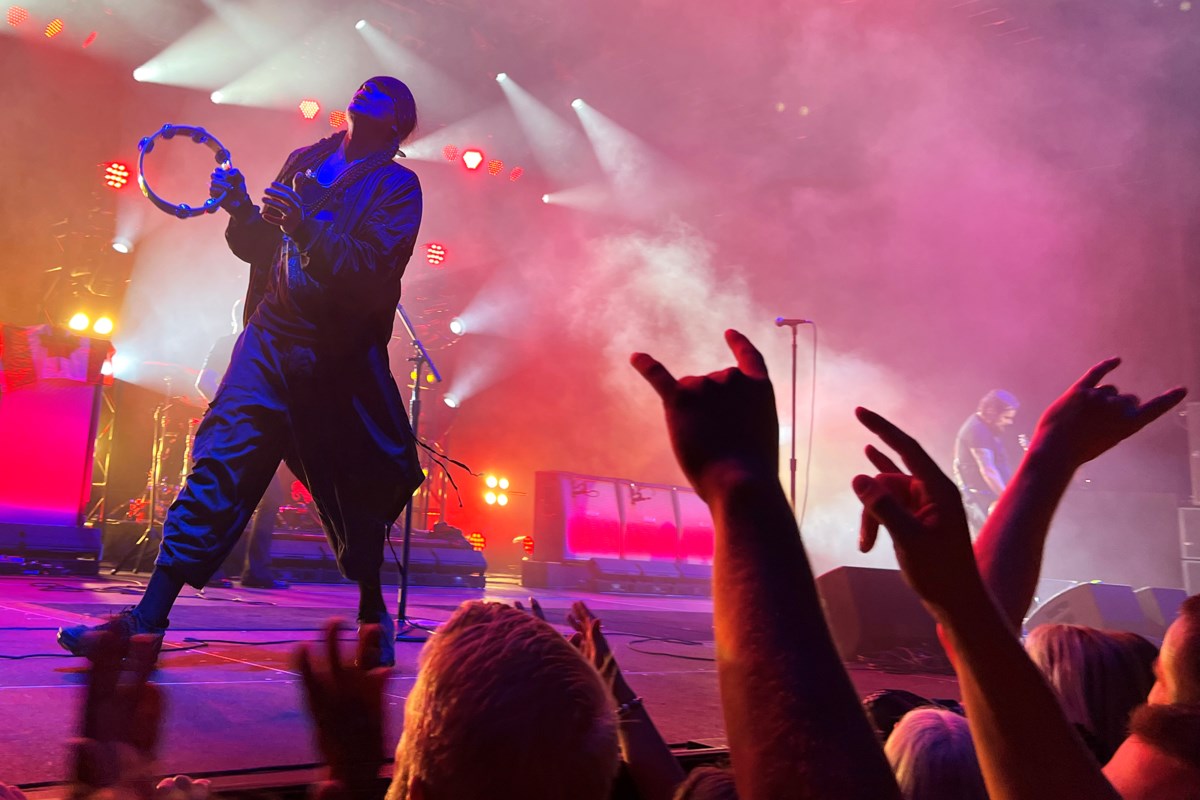 CHRONICLE: The Cult's explosions strike aftermath at Casino Rama
To this day, The Cult's sound remains timeless and not stuck in 1985, according to a reviewer who claims the band were a hit with fans on the Casino Rama show.
I consider myself very lucky for the musical era in which I was brought up. I caught the tail of hair metal as a teenager, then jumped right into alternative/grunge explosion when it was still considered an "underground" scene.
Along with a teenage older brother in the late 1980s, he introduced me to legions of under-the-radar metal bands, many of which I still listen to regularly today. I still have an affinity for those hairspray strips, because things were lighter and less serious. The lyrics are mostly laughable in hindsight, but the music is meant to entertain, isn't it?
In 1990 I started to seek and satisfy my own musical tastes at the age of 14, that's when I discovered Nirvana, Pearl Jam and Soundgarden. And today, just like those metal bands, I still find myself enjoying bands of that ilk. Nostalgia plays a big role in the music of our lives.
It was definitely like two different worlds. Many of this old guard bands, with their pyrotechnics and bikini-clad wives in their shiny videos, simply melted away when Kurt Cobain entered the scene with his shriek, ripped jeans and flannel shirt tied around the waist. cut. The two musical camps couldn't be further apart.
But The Cult, which rocked the Casino Rama scene last night, seemed to have the best of both worlds.
Frankly, they were neither the old guard nor the latest shiny thing. They were clearly somewhere in between, and that's what made them great, even to this day. Sure, maybe the visual at the time retained the distinct 1980s quality, with singer Ian Astbury's puffy pirate shirts and colorful scarves, but it all ended there.
The sound is what matters most. They cut their teeth in the post-punk and goth scenes before moving on to more edgy rock 'n' roll where they clearly left their mark as a crossover success story.
To this day, The Cult's sound remains timeless and not stuck in 1985. Astbury's deep vocals and Billy Duffy's signature guitar sound – mostly through that distinctive White Falcon Gretsch – are unmistakable at this day.
Although they could string together rock riffs and screams as well as anyone, their dark looks and lyricism were very different from, say, 1989. That was the year the British band released their much-announced sonic temple album, which was full of hymns, woman of fire and sweet soul mate at Edie (Baby Caio) and Sun King, all of which found their way onto Saturday's 16-song set list.
Astbury, dressed in all black, also announced that the Casino Rama show, the final leg of the North American tour, would be their longest set on the circuit, spanning 80 minutes with an encore. This, of course, received a loud ovation from the mostly vintage crowd. Little devil, Wild flower and love removal machine all knocked spectators out of their seats for most of the night.
And with a page straight out of Rock 'n' Roll 101, at one point in the show, Astbury's tambourine – which is never too far away – burst out as he repeatedly bounced it off the stage floor. He tossed the broken shards to someone to the right of the stage and in a split second, another flies off, right into his hand. It's rock 'n' roll, folks!
I'm also a bit of a music history nerd, and one story that has always interested me is that Astbury spent part of his childhood growing up in Hamilton with his British family.
He has told reporters in the past that those years had a lasting effect on his musical tastes and influences. — presenting him people like Iggy Pop, David Bowie and the New York Dolls.
Last night, the Black Front man even took the time to say some of Ontario's more obscure town names and also hung a little Canadian flag over one of the speakers. He has clearly shown that his time in Canada has shaped him. It was also here that he developed a kinship and a deep interest in native culture, which still permeates the band's lyrics and imagery.
And don't be fooled. The Cult weren't just on a casino rock tour, which many aging/classic bands invariably find themselves on as the crowds dwindle over time. The band's latest album, Under the midnight sun, slated for release in early October and marks their 11th studio offering. The release of the first single from the new disc, give me pity, which played midway through last night's set, helped them kick off the North American tour on July 8 in Minnesota. All but two songs were played last night "Have mercy on me, and To go up from 2001 Beyond Good and Evil – comes from the band's classic catalog of the 1980s.
It's been six years since founding members Astbury and Duffy released their last album in 2016. hidden city. For my money, Duffy should be considered one of the greatest of all time, with his unique sound and unrepentant catchy riffs.
For the new album, Astbury said they were inspired by influences such as Brian Jones, William S. Burroughs, Buddhism, The Beats and the Age of Aquarius, all subject to the musical machine that is The Cult. Definitely something to look forward to!
As the days, months and years pass, The Cult will always hold a special place for me and that was only reinforced during last night's concert.
Raymond Bowe is the editor of BarrieToday.