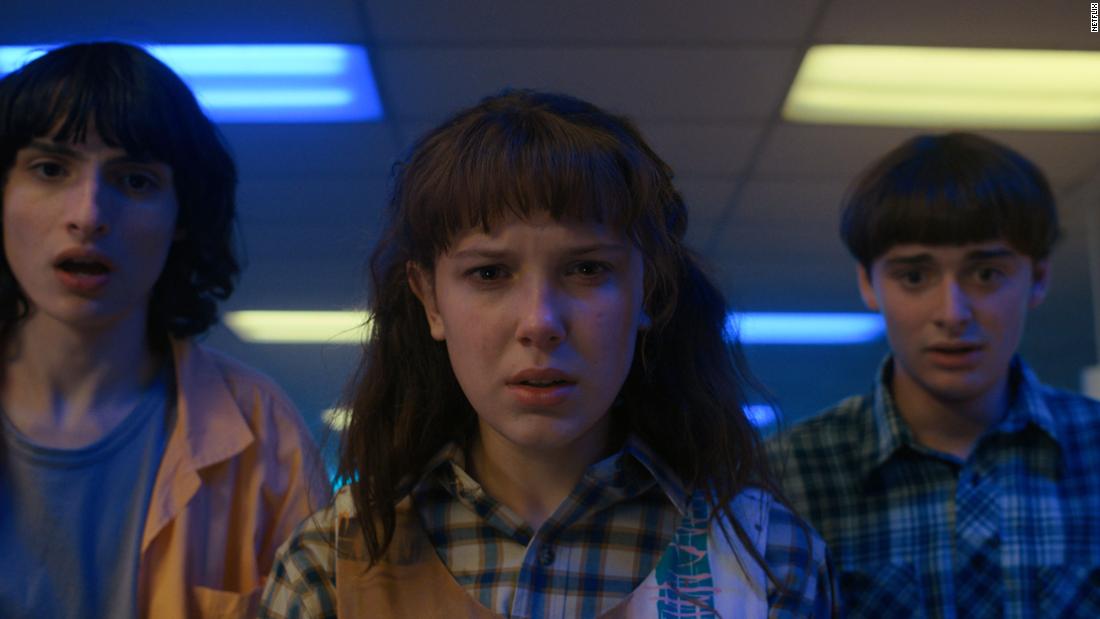 Analysis: Watch 'Stranger Things' for the horror, stay for the '80s nostalgia
Back then, I couldn't wait for summer to come because that meant skipping school, catching fireflies with my friends, and lots of popsicles.
Now, as an adult, that means high gas prices, uncomfortable temperatures and, if I'm lucky, cocktails on a patio with friends while the mosquitoes feast on us.
You know what? I think I'll just stay and spread happiness.
'Stranger Things' Season 4
I'm not a huge sci-fi fan, but the thing about "Stranger Things" is that it's so much more than that.
It actually mixes several genres, including horror and coming-of-age, feeding the need for 1980s nostalgia.
Season four has been split into two different parts and is getting big – and I'm not just talking in terms of child actors growing up. No spoilers here, but I will say that we learn a little more about the character Eleven, who is played to perfection by Millie Bobby Brown.
The first part of the new season of "Stranger Things" is streaming on Netflix.
"Look at me: XXXTentacion"
Rapper XXXTentacion was just 20 when he was shot dead in 2018 in Broward County, Florida.
But his music and the fascination for him and his life endure.
Director Sabaah Folayan uses never-before-seen archival footage and commentary from those who knew and loved him to chronicle how XXXTentacion grew from a kid with musical dreams to one of the most-listened to hip-hop artists in the world. all the time.
The documentary is streaming on Hulu.
'Ricky Gervais: Super Nature'
Ricky Gervais is beyond irreverent.
It's no surprise, then, that people are outraged at his new comedy special, in which he aims to cancel culture.
Why did he make the list of what to watch this week? Because I strongly believe in not sticking your head in the sand when it comes to controversial content.
Far too often we complain about things we don't even know, understand, or have context in a nuanced way.
If you want to see what it's all about, "Ricky Gervais: SuperNature" is streaming on Netflix.
Two things to listen to
Speaking of trouble, musical artist Liam Gallagher has also had his share of controversy, including his contentious relationship with his brother and former bandmate, Noel.
Liam Gallagher now has a new album, titled "C'mon You Know," and, apparently, no regrets.
"I don't think I made a mistake"
he told Esquire
. "I think it went about as planned."
The new album was released on Friday.
Steve Earle pays tribute to one of his heroes.
His new album with The Dukes, "Jerry Jeff", is a tribute to singer-songwriter Jerry Jeff Walker, who died in 2020.
"This record completes the set, the work of my first-hand teachers," Earle wrote in the liner notes, referring to 2009's "Townes" and 2019's "Guy," which were made after the death of these mentors,
according to SavingCountryMusic.com
. "The records were recorded and released in the order they left this world. But make no mistake, Jerry Jeff Walker came first."
"Jerry Jeff" was released on Friday.
Something to talk about
I had the chance to talk to Queen Latifah about her weight loss journey and why she wants people to focus more on obesity health.
She was incredibly open not only about her own struggle, but also about how being a plus-size woman in Hollywood can bring pressure from those who would make her thinner and those who want her to continue portraying plus-size women. large.
She reminded me that you can't please everyone, so it's better to be content with yourself.
something to sip
It seems like only yesterday I received a DVD containing the screener for a new NBC drama called "This Is Us".
Yes, that was so long ago – networks were still sending out DVDs of their new shows.
Almost six years later, the series has come to an end, having broken the hearts of many viewers each week. It tapped into the emotion of life and family in such a way that long after the show ended, people will be talking about the masterful storytelling.
But, to me, it was the cast of "This Is Us" that were not only amazing on the show, but seemed to become a real family over the years, because
they took viral dances on social media
and held on to each other as they rose to fame.
Thank you, Pearsons – and all the other characters in their world – for the joy you've brought to your audience over the years.