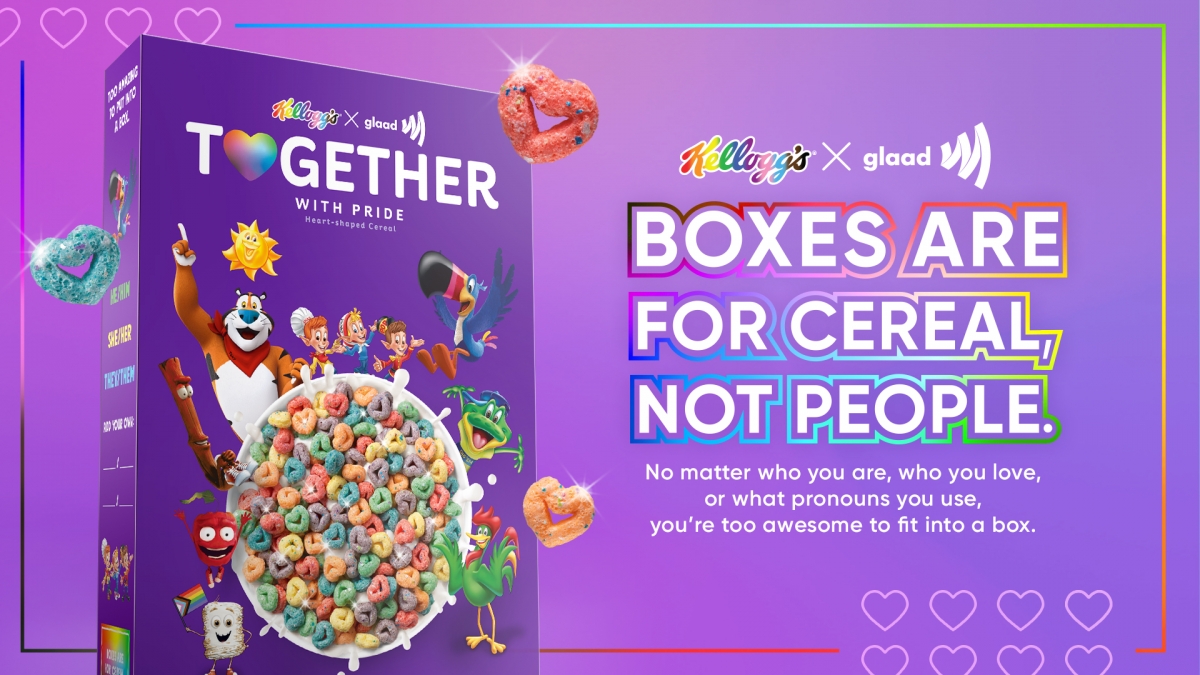 American Family Association demands boycott of Kellogg's pride-themed cereal
The American Family Association (AFA), an anti-LGBTQ group, has called on consumers to boycott the multinational food-maker Kellogg Co. over its limited-edition, pride-themed cereal.
The cereal is called "Together with pride". Its box features many figures that represent Kellogg's other cereals. The cereal is made from berry-flavored rainbow hearts sprinkled with edible sprinkles. Its box contains a detachable "Together Band" where people can declare their pronouns.
Kellogg donates $ 3 from each box purchased to GLAAD, a media watch group that advocates for affirmation of representations of LGBTQ people in the media.
"Every box of Kellogg's sold affirms the Kellogg Company's support for homosexuality … [in an] effort to push homosexuality among children, "says the AFA in an" Action Alert "on its website.
"Every box of Kellogg's sold (branded gay or not) tells the company that Kellogg's support of homosexuality is an acceptable part of their business. We urge you to consider an alternative to Kellogg's," the page states. AFA Web.
AFA is also asking its web visitors to sign a letter to Kellogg CEO Steve Cahillane.
"Homosexuality is a very dangerous and unhealthy way of life," the letter reads. "Your decision to promote it could lead countless children down a path that will lead to very sad and devastating lives."
Kellogg's and GLAAD launched the "All Together" cereal campaign in 2018 to mark Spirit Day. Spirit Day, which began in 2010, is an annual LGBTQ awareness day that takes place on the third Thursday in October. Its observers are encouraged to wear purple in visible protest against anti-LGBTQ bullying.
Previously, Delta Airlines, the Target retail chain, Skittles candy, online retailer Amazon, and the Women's and Men's National Basketball Association have been partners of GLAAD Spirit Day.
The AFA has a long history of corporate boycott of LGBTQ inclusion.
In 2016, the AFA asked people to boycott Target after the retail store announced it would allow customers to use restrooms that properly match their gender identities. The Wall Street Journal reported that the company saw increased sales as a result of the boycott.
In December 2019, AFA spinoff group One Million Moms successfully persuaded the Hallmark Channel to release a Zola wedding planning ad featuring a lesbian couple kissing at the altar. Hallmark reinstated the ads a day later following a public outcry.
The AFA also called on its supporters to boycott companies for saying "Happy Holidays" instead of "Merry Christmas"; Disney to "support the homosexual agenda"; Marvel Studios for including a gay superhero in his next one Eternals movie; Scholastic Books for publishing a book about a transgender child; and numerous boycotts for similar acts of LGBTQ inclusion.
AFA's radio network American Family Radio welcomes former AFA spokesperson Bryan Fischer. Fischer claims that the German Nazi Party was secretly made up of "die-hard homosexuals." Fischer also called for the mass deportation of Muslims living in the United States.
The AFA also has a partnership with the American Center for Law and Justice, a conservative Christian legal group that has worked to keep homosexuality illegal in Africa.
News week contacted Kellogg Co. for comment.