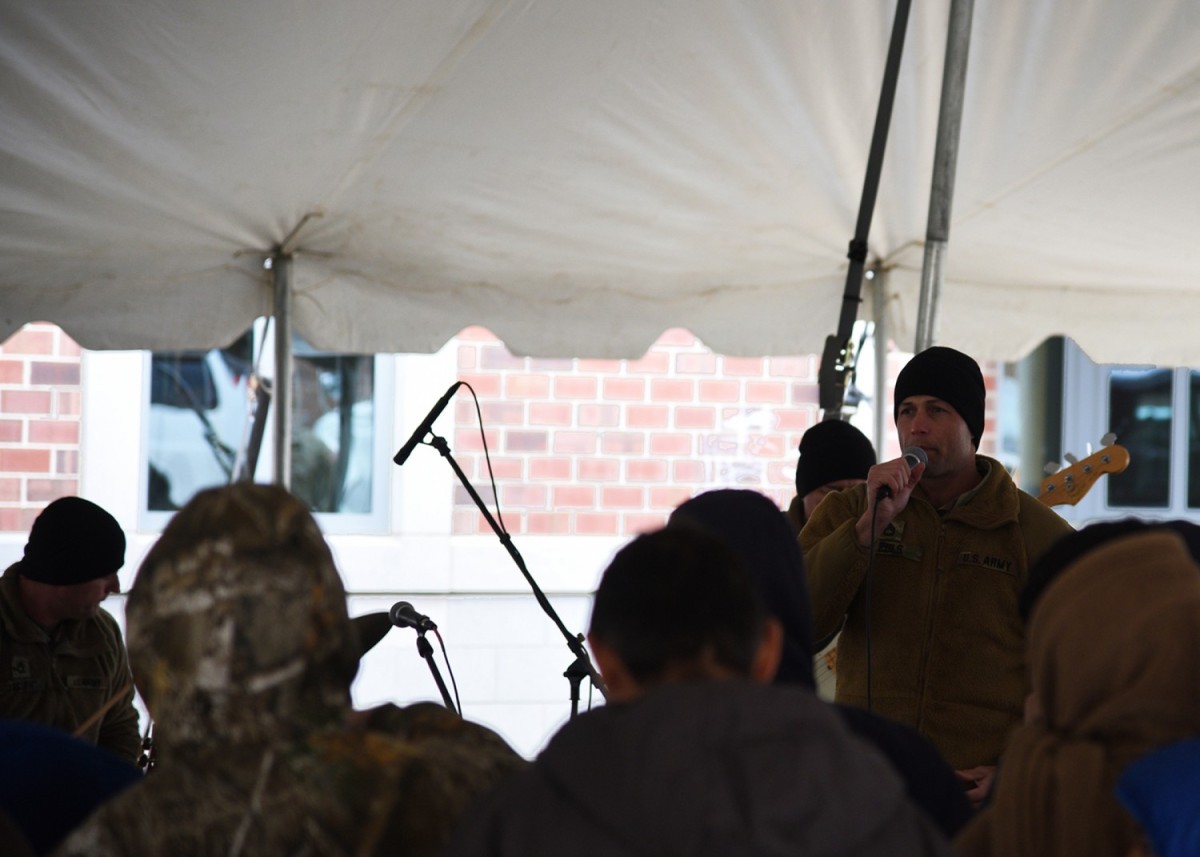 399th Army Band performs for Afghan evacuees soldiers at Camp Atterbury | Item
FORT LEONARD WOOD, Missouri – Members of the 399th Army Band from Fort Leonard Wood visited Camp Atterbury, Ind., This month to perform for Afghan evacuees and the soldiers providing assistance to them, as part of the Operation Allies Welcome.
All four concerts, given by rock band Rough Riders – including Sgts. 1st Class Michael Joseph (vocals and drums) and Dan Puls (lead vocalist), Staff Sgt. Brian Mackie (bass), Sgt. Dgiovahni Denize (sound system), and SPC. Patrick Haley (guitar and drums) – performed Nov. 13-14 at the South Central Indiana facility.
Being able to do something of this magnitude, Mackie said, was just a wonderful opportunity.
"We played a pretty wide variety of music and I think what we did there worked really well," he said. "There seemed to be a pretty great appreciation for us for being there, both from the Americans and the Afghans in the audience. We have received a lot of positive feedback. "
Mackie, from Melbourne, Florida, said the first show they performed was outdoors – the temperature was only 34 degrees Fahrenheit.
"We've all learned that it's possible to get through a show when we couldn't feel our fingers," he said.
While preparing for the shows, Mackie said the Afghan children came, some just to see what was going on and others to hit the bass drum or pluck a guitar string.
"It was a unique setting," Mackie said. "The kids – as soon as we plugged in, turned on and started playing – their eyes were huge. "
Music is often referred to as an international language, Mackie said, and this was put to the test when the band got the opportunity to perform with an Afghan singer.
"He got up at one of our shows with a keyboard and sang a few songs," Mackie said. "For us, as musicians, it was a unique and eye-opening experience because they have a different pulse and rhythm in their music. But whether or not you understand the lyrics being sung or the message of the song, you can still feel the beat.
A 399th Soldier with the group at Camp Atterbury was not performing. CPS. Douglas Olenik, a tuba player from Creston, Ohio, was there in a support function. A music teacher for seven years before joining the military in 2020, Olenik said the Afghan children reminded him a bit of his old job.
"I wasn't sure what to expect – I didn't go to Afghanistan," he said. "I was surprised to see how much they look like us, how much they like to have fun. The kids are the same – these little ones – they just speak a different language. "
Even though he was not there in a performance capacity, Olenik described the experience as very rewarding.
"It's something that most people don't get the opportunity to experience outside of the military," he said. "It's a different level of reward. I've played all kinds of gigs for all kinds of different things, but knowing that we were there to help these people through a tough time is pretty cool.
Mackie said it's hard to imagine what the Afghan evacuees are going through, but he's glad he was able to do something to help brighten their days.
"If I were to leave my own country and go to another country, there are so many unknowns, there would be a lot of anxiety," he said. "So we were happy to help provide a time for everyone to come together. Some of the older songs we played, there were Afghans in the audience speaking the words. It was a heartfelt experience. "